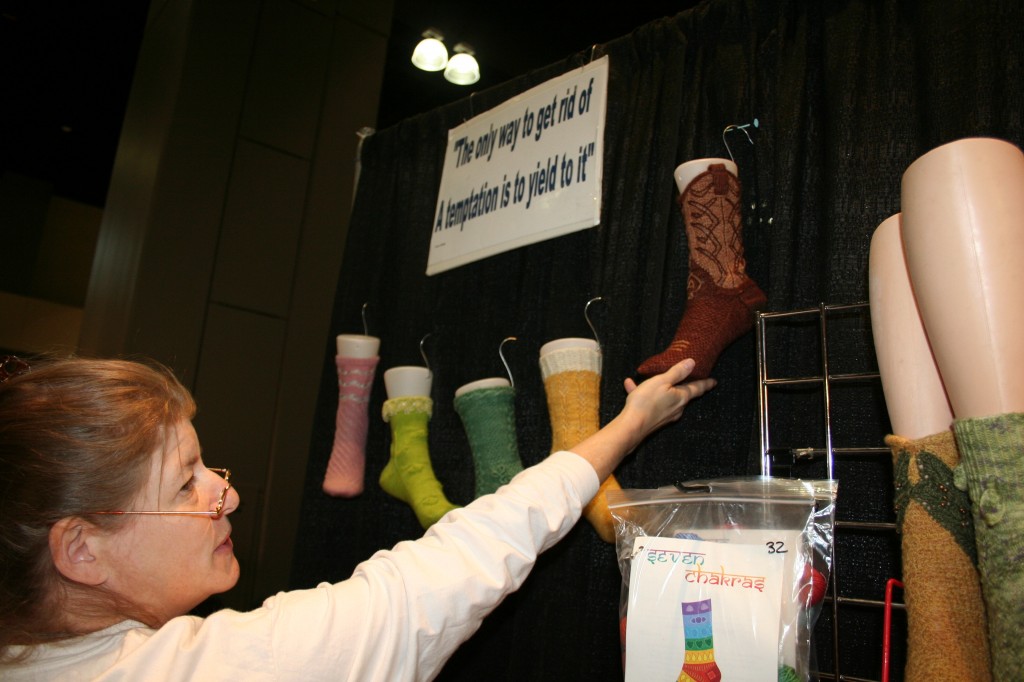 The Inaugural Fiber Festival of New England is Saturday, Nov. 6 and Sunday, Nov. 7, at the Mallary Complex on the grounds of the ESE in West Springfield, Mass. Brought to the region by Eastern States Exposition (ESE) and the New England Sheep and Wool Growers Association, more than 200 exhibitors from New England and beyond will be showcasing their products including yarn, roving, needles, patterns, clothing, quilts, blankets, rugs, looms, spinning wheels, (did I mention yarn?) handmade soaps and fiber-producing animals.
Lisa Grossman, Tsarina of Tsocks, designs and creates artful socks from yarn (one is an perfect cowboy boot, another an intricate beauty called the "Snow Queen") and she can help you create them too. We met at the recent Stitches East convention in Hartford, and she'll be at The Fiber Festival of New England.
Learn more about her at www.tsocktsarina.com or see the nifty creations on her blog at www.tsocktsarina.com/blog. (Kits are available from Holiday Yarns.)
Or find her work on Ravelry (an online forum for people who love fiber, registration is necessary to access ongoing dialogue, similar to Facebook), where members are also discussing attending the event.
Demonstrations include Theresa Drouin-Guerette spinning with a wheel and using a spindle; "Alpacas 101" presented by New England Alpaca (includes tips on barns, fencing, general care, nutrition and vet care). And the members of New England Lace Group will focus on bobbin lacemaking and tatting.
Peggy Gaffney of Kanine Knits Books & Patterns will be speaking there Saturday at noon about knitting and designing.
Workshops (space is limited, registration is required) feature needle felting, folk art rug hooking, and miniature punch needle hooking, led by J. Conner Hooked Rugs. Dennis Picard, Storrowton Village Museum curator, will lead a field guide class on antique tools and mechanisms.
Admission is $5, children under 1, free. Hours are Saturday, 9:30 a.m. to 5 p.m.; Sunday, 10 a.m. to 3 p.m.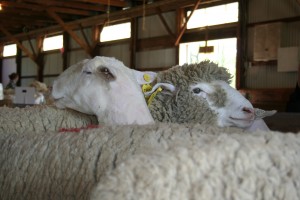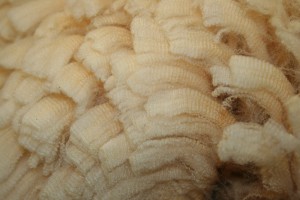 A new addition is the fleece sale that will be ongoing throughout the festival. All fleeces are to be brought to the Mallary Complex starting Nov 5. at 9 a.m. For details, e-mail aginfo@thebige.com or call (413) 205-5011.
Children will enjoy interactive activities at the Children's Place and there will be entertainment, walk-around attractions and food and beverage concessions.
For more information, visit the Eastern States Exposition site (also the producers of The Big E) at www.thebige.com. There is also a link to the vendors and events.