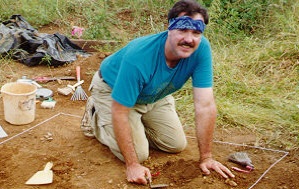 The 150th anniversary of the beginning of the American Civil War will be remembered in various ways throughout 2011.
"Andersonville and Fort Pulaski: Archaeology at Two American Civil War Prisoner-of-War Sites in Georgia" will be presented Saturday, Jan. 29, 2 p.m., by the Friends of the Office of State Archaeology (FOSA), The Archaeology Society of Connecticut (ASC), and the Connecticut State Museum of Natural History and Connecticut Archaeology Center, part of programs at the University of Connecticut.
National Park Service archaeologist John Jameson is the featured speaker.
While the American Civil War may be best known from pivotal events such as the battles of Fort Sumter, Antietam, and Gettysburg, an estimated 56,000 men perished in Civil War prisons, a casualty rate much higher than on the battlefields. Jameson's talk will focus on Andersonville National Historic Site and Fort Pulaski National Monument, where prisoners of war were kept under horrific conditions. Archaeology has played an important role in filling major gaps in the historical records.
"In existence for 14 months, more than 45,000 Union soldiers were confined at the prison. Of these, almost 13,000 died from disease, poor sanitation, malnutrition, overcrowding, and exposure to the elements. The largest number held in the 26½-acre stockade at any one time was more than 32,000, during August of 1864."
Andersonville National Historic Site is the only park in the National Park System to serve as a memorial to all American prisoners of war. The National Prisoner of War Museum opened on April 9, 1998, the result of a partnership between the American Ex-Prisoners of War and the Friends of the Andersonville. More than 10,000 individual donors and 25 corporations and foundations contributed funds to construct the museum and then to support it.
The talk will take place at Smith Middle School, 216 Addison Rd., Glastonbury. Admission is $12; $5 for students with ID. Snow date is Sunday, Jan. 30. The annual meeting of the Friends of the Office of State Archaeology (FOSA) begins at 1 p.m. and is open to the public.
"Study the past if you would define the future." – Confucius